Willie & Roberts Stick Animation
~ Presenting a site put together by my nephew Willie and his friend Robert showing off their talent with stickmen, blood and shockwave/flash animation. Make sure you take a look, these cartoons are a riot.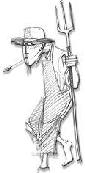 The Cow Egg Review ~ This page is the funniest one I've read since The Onion. It's put together by a friend and his pals and it's all about, uh, I think you'll have to go and see for yourself. *L* I really can't describe it with any accuracy. There are cow eggs, deadly boulders and experts on all things rural, even chickens.

This would be my favourite hockey site. It doesn't take a year to load and then kill my browser like NHL.com does. Plus, it's Canadian, and who knows hockey better than we, I ask you?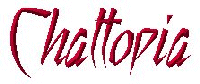 A place I drop in to from time to time. Mostly my brief moments online are spent on ICQ, but every now and then I pop in for a visit. Check out The Party Shack.

Go to the Archives at this site. Probably one of the funniest collection of articles I've ever read. My thanks to big sister Debbie for this gem.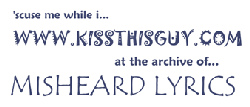 This site contains archives of misheard song lyrics and is appropriately named after one of the most commonly misheard lyrics, ever. There is a huge database to search, and you can enter your own interpretations of lyrics you've misheard. You'll spend hours searching through and just laughing at how badly a song can be misheard, and the hilarious ways people get caught singing them wrong.

Monty Python's place on the net. This is by far one of my most favourite sites. They have one of the funniest insult generators I've seen thus far.

Are the people you know driving you nuts by insisting that everything they read online is real? Are you tired of trying to convince them to give up that crack pipe? Send them here and let the folks at Urban Legends set them straight.




I love this site. Being the true crime buff that I am, this is where I go to do my reading, get my facts and revel in other peoples freakishness. All the backgrounds on the worlds most infamous criminals.




Are you sick to death of getting those forwards about viruses, hackers on your icq list and the rest of the doom and gloom that seems to barrage your icq 20 times a day? Send them to this site . A well written, hilarious page that deals with some of the more infamous rumours that plague ICQ.




This site is hilarious. As the banner here states, just really dumb laws from all over the Unites States and dumb laws from other countries as well. A great place to go if you're really needing a laugh. You can also read about Dumb Warnings, Dumb Bumpers, Dumb Facts and Dumb Criminal Acts here, plus alot of other funny stuff.


Sign My Guest book

Let's have a look
Family | Friends | Who Are You? | Netiquette | Top Ten | Snow Art | Home | Contact Me